A good sports bra is one of the most important pieces of gym kit a woman can buy. Not only does a supportive sports bra help keep you comfortable during your workout but it also helps prevent sagging of the breast tissue. With each running stride, breasts move not only up and down, but also side to side and in and out. Unsupported, the average A cup travels about 38 mm in each direction, and a D cup bounces 50 to 70 mm! No matter the size of your breasts, wearing the right sports bra helps to limits movement — which is key to sparing the support structures in your breast. Here's how to maximize your lift and choose a perfect sports bra for you.
Know your size:
Figuring out what size to buy is perhaps the most difficult part of shopping for a sports bra. While there is no magic formula for finding out which bra size will fit you best, following a few simple tips will help you find the correct fit. The key is to try on as many bras as possible. Start with your usual bra size and try on different sizes, up and down a size or two, to find the perfect fit. Different bras will fit differently, so try a few styles and brands before deciding on one that fits best. For a better fit and more support, try to buy a sports bra that comes in a specific cup size rather than just small, medium or large.
Ladies with a big bust should lean towards sports bras that hold each breast in a separate cup or 'chamber'. This helps reduce bouncing and gives better support. A good 'shelf-style' bra can also provide great support for ladies with a smaller bust (A and B) but make sure you test the bra with a bounce test first.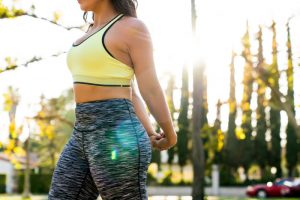 Make an impact:
When it comes to choosing the right sports bra, it's all about impact. Buying the right sports bra is all about the type of exercise you are doing. If you do a range of different types of exercise then make sure you buy a variety of different sports bras.
Sports bras usually come in three impact styles; low, medium, and high impact. A shelf bra is a great choice for low-impact disciplines like yoga, weight lifting, and pilates as it will give you freedom of movement while still offering support. For exercise that is slightly more intense, like hiking, cross-training, and spinning, you will need to opt for a medium-impact sports bra. High-intensity activities, like running and HIIT, will require a high-impact sports bra that can be put through its paces. A high-impact sports bra usually features an underwire, individual padded cups, and wider shoulder straps.
Take your training sessions to the next level with the Shock Absorber High Impact Sports Bra. Guaranteed to give you maximum support and improved comfort, this is the sports bra you want on your team next time you hit the treadmill or that spinning class. Shop the Shock Absorber High Impact Sports Bra online now:

Don't skip the fitting room:
There are few things you can do in the fitting room to find the correct fit in a sports bra. While wearing the bra, check that the back band is at the same level all the way around. If it rides up, it's too big. The back band does most of the work in a sports bra and should be snug when on the first/loosest hook. Next, lift your hands up over your head, if the bra slides up it is too small.
Your sports bra should fit snugly, but not be too tight and you should be able to get no more than one finger under the band or in the cup. As for the straps, whether it's a wide-set strap or a racerback, if they are digging in then the bra is not fitting right. Before you leave the fitting room do a bounce test — swing your arms, rotate your body and move around like you would when exercising to make sure that the bra doesn't rub, slip or poke you in the wrong places.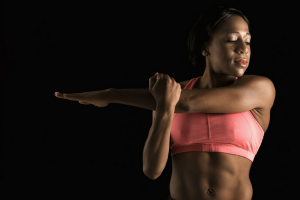 Strap it in:
Figuring out which style of strap you need is another key element to finding the perfect sports bra. Bras usually come with two straps styles — racerback and wide straps. Choosing the right straps all depends on the type of exercise you are doing. Racerback bras cinch in at the back and allow the straps to anchor the bra closer to the body, providing more support. Wide straps help distribute weight better and are more likely to be adjustable. If you have larger breasts, choose a bra with a back clasp that will allow you to tighten the bra and get more support. A pullover bra is fine for ladies with a smaller bust.
While you're in the fitting room you can test the straps by holding the top of one strap and the centre of the corresponding cup and pulling. The less stretchy the front straps, the more motion control they'll provide.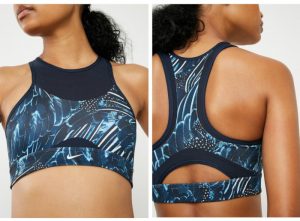 The Nike Swoosh Feather Curve medium support sports bra features a high-neck design for coverage and strategically placed mesh to help keep you cool. A cut-out back detail provides style and added breathability while the racerback design allows for a natural range of motion. Shop the Nike Swoosh Feather Curve bra online now:

Know when to say goodbye:
Once you've found the perfect sports bra, don't hold on to it for years to come. The technical fabric of your sports bra will wear in the washing cycle, and its elasticity will diminish during use. While you may feel like you have a special bond with your sports bra, you will need to replace it every few months. A good rule of thumb is about 40 washes or about 9 to 15 months of regular wear. If the ends of the spandex fibres start showing or the fabric no longer snaps back into shape, it's time to replace the bra.
Of course, we know sports bras can be pricey, so, to prolong the life of your sports bra, try not to tumble dry it. The heat from the tumble dryer will destroy the fabric on your bra. Experts also recommend hand-wash your sports bras, or put them in a lingerie bag in the washing machine for extra protection.
Once you've found your perfect fit, don't forget to shop around for the best price on the sports bra of your choice. Shop a wide range of sports bras at the best prices online with PriceCheck now: