It seems like everyone and their dog is baking during the coronavirus lockdown. Whether it be sweet delights like banana bread and cookies or savoury treats like beer bread or savoury muffins, South Africa's kitchens are bursting with enthusiastic bakers. Baking is a great way to relieve stress, but sometimes we run into a little trouble with a recipe, resulting in less than relaxing results. Luckily, there are a few sure-fire ways to make life in a baker's apron a little easier. Whether you're a newbie baker or a seasoned home baker, check out these 5 brilliant tips every baker needs to know.
1. Make clean-up easy with silicone baking mats: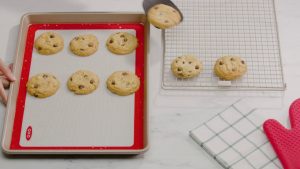 Love baking, but hate cleaning up? Use silicone baking mats to prevent those stuck-on messes. Forget spending ages spraying pans or prying bits of parchment paper off freshly baked cookies, silicone baking mats get rid of the hassle of cleaning baking tins and your bakes will slide right off them.
Silicone baking mats are available in a variety of sizes. Find the best price on this secret weapon and other baking tools and accessories online with PriceCheck:

2. Keep it cool: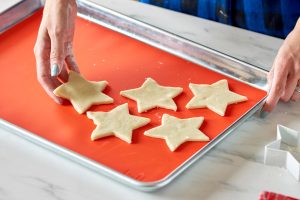 Before you start baking, make sure your ingredients are at room temperature. This will ensure consistency in your bakes. Most recipes call for beating butter and sugar together, this is easiest when butter is room temperature and will also result in nice fluffy baked goods. Eggs also need to be at room temperature. Adding cold eggs to your butter-sugar mixture means all your hard work down the drain. It will make ingredients 'seize' into chunks which never fully mix with your dry ingredients, resulting in sugary butter blowouts rather than light, even crumbed baked treats. If you've forgotten to take your eggs out of the fridge before you've started baking, simply fill a bowl with luke-warm water and let your eggs rest in the water for 10 – 30 minutes until they have warmed up to room temperature.
If you're baking cookies, don't forget to let your dough cool in the fridge before baking. For beautifully soft cookies with a subtle crunch, you want to make sure your cookie dough is nice and cold before baking.
Find the best prices on baking ingredients online with PriceCheck:
3. Invest in a kitchen scale: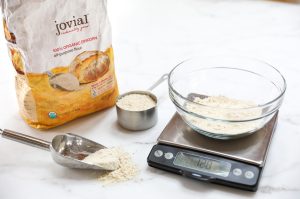 If you have a scale in your kitchen, use it instead of measuring cups. Measuring cups can vary quite a lot and baking is all about being precise. Use a kitchen scale (digital is best) for making sure you measure the precise quantities your recipe requires.
If you don't have a scale, measuring cups will do for now but if you're going to be serious about your baking going forward, a scale is well worth the splurge.
Find the best price on baking tools and accessories online with PriceCheck:

4. Choose high-quality, non-stick bakeware:
If you're going to be baking often, you'll want to invest in some high-quality, non-stick bakeware. Non-stick and silicone bakeware are amazing for ensuring you get even bakes while cutting down on clean-up time.
In addition to bakeware, a good silicone spatula is also a must. These are much easier to use and clean.
Find the best price on baking tools and accessories online with PriceCheck:

5. Don't skimp on a sifter: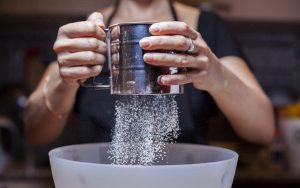 Another key tool for home baking is a good quality sifter. If you want even bakes then get yourself a sifter. Most recipes will call for you to sift something, whether it be flour, baking powder, or another ingredient. A good-quality sifter will ensure you don't end up with any lumps in your batter.
Find the best price on baking tools and accessories online with PriceCheck: