In the market for a new wireless Bluetooth speaker? With so many options on the market, choosing which speaker to buy is no easy task. While many people tend to stay brand loyal when it comes to investing in a Bluetooth speaker, there is value in searching outside the box for gems you may not have considered. I've been looking to buy a new Bluetooth speaker for a while now so when I got the chance to try out the new Ultimate Ears Boom 3 speaker I jumped at the opportunity to see if this little device is the one I've been searching for.
Created for outdoorsy types who love to spend their days at the beach or poolside, the waterproof UE Boom 3 is a great partner for any adventure. It's lightweight and ultra-portable, making it great for tossing in a backpack or a beach bag as you head out the door. Designed to keep up with life's thrills and spills, the Boom 3 offers an incredible IP67 waterproof and dust-proof rating, which means it can be submerged underwater for up to 30 minutes.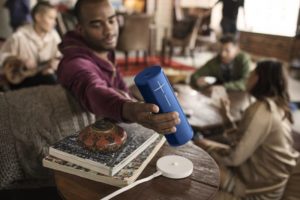 In terms of sound, the Boom 3 can pump out some serious audio, with a maximum of 90 decibels. Audiophiles will love the Ultimate Ears app which allows you to connect your speaker to your smartphone and adjust the EQ, which has four different sound presets as well as a customised tuner. The app also allows you to pair any Ultimate Ears Booms and Megabooms speakers together (up to 150 or more speakers) in 'Party mode', for surround sound that doesn't disappoint. And, if you're always fighting with your friends over whose music is better, you can use 'Block Party' mode to connect two smartphones to the same speaker and take turns playing music.
The Boom 3 has an impressive wireless range of 45 metres, so you can play music at a party while mingling and moving around the room. Plus, with a battery life of up to 15 hours on a single charge, the Boom 3 is all you need to keep the party going all day long. When the power eventually runs out, the device can be charged with a USB cable or wirelessly with the UE Power Up charging dock which can be bought separately.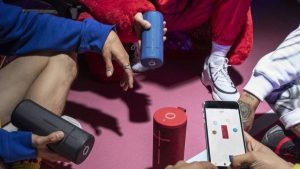 An important factor to consider when buying a speaker is Bluetooth connectivity. I've used many wireless speakers that take far too long to connect to your phone with sub-par Bluetooth. Nothing is more frustrating than wasting time attempting to unsuccessfully connect your smartphone to your Bluetooth speaker. Many Bluetooth speakers require multiple attempts before connecting to your smart device but my Android device never struggled to connect to the Boom 3. The speaker also didn't seem to have any issues with dropped connections or stutters, another common issue with many Bluetooth speakers.
As for the design, the speaker looks just as great as it performs. The UE Boom 3 has a cylindrical shape with a flat edge on the top and bottom, making it easy to balance on flat surfaces. The flat volume control buttons on the front side of the speaker are nice and big, making it easy to control, without adding any bulk to the speaker.
All in all, the UE Boom 3 is a solid little speaker that addresses some of the bigger pet peeves I have with other wireless speaker options. With well-balanced sound and gorgeous design, at a budget-friendly price tag, it offers plenty of bang for your wireless speaker buck and I can't recommend it enough.
Find the best price on the Ultimate Ears Boom 3 online with PriceCheck now:

Remember to check out our Bluetooth speaker buying guide to find the perfect product for you!