Every year the smartphone landscape in South Africa is dominated by Samsung, Apple and Huawei.
While there are many other handset manufacturers who make wonderful handsets, they all get lost in the shadow of the big 3.
LG knows this fate all too well. They've made great Android smartphones for years (the G4 remains one of my favourite phones of the past few years) but they've always remained in the shadow of their South Korean competitors. The V30+ could change that.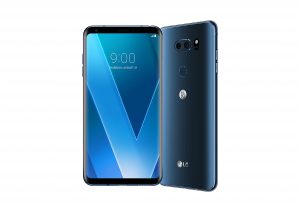 Design
Earlier this year, LG unveiled the G6 which housed the company's first FullVision display. This was the first flagship smartphone from a major technology company to debut a near bezel-less display on smartphone. While the G6 easily became a firm favourite amongst many tech reviewers, it wasn't quite the perfect phone for me purely because of the design. That doesn't mean that there is anything wrong with the G6 design, it just means that it didn't appeal to me as much as certain other handsets did. Then came the V30 / V30+ and it was love at first sight.
LG took the innovations and technology that they first debuted in the G6, refined it and made the V30+ the best phone they've  ever released.
It has a 6-inch Quad HD display, a rear-mounted fingerprint scanner (in an easy to reach place), a 3.5mm headphone jack and a Gorilla Glass back. All of this is housed in a super svelte, understated design with a slightly curved back and rounded edges everywhere. It's a slighter wider phone than I'm used to handling but thanks to the design, it feels incredibly comfortable to hold.
LG has said that the V30+ "meets U.S. Department of Defense requirements for durability, having passed 14 categories of the MIL-STD 810G Transit Drop Test making it compliant for military operations." This means that it's supposed to be more durable than your average phone, but there have been reports of people dropping the phone and the back shattering.
Display
LG has finally opted to put an OLED display in a smartphone and what a beauty it is.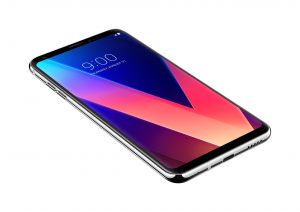 While not as punchy or saturated as Samsung's displays, the display on the V30+ is vibrant and reproduces colours fairly accurately. There have been reports of uneven lighting across the display but this isn't noticeable while using the handset.
Thanks to the minimal bezels and the large display, the V30+ is a joy to use when it comes to watching video and looking at photos.
Features
The V30+ has all the usual specs found on 2017's high-end phones : a Snapdragon 835 chipset, IP68 rating, minimal bezels, glass body, fast charging, wireless charging and an amazing camera.
Many people think that the G series is LG's flagship range of devices but in 2017, the true flagship is the V30 / V30+
LG has equipped the V30/V30+ with a Hi-Fi Quad DAC. Tuned by B&O PLAY, Lg says that it delivers an authentic and superior acoustic experience which is finely tuned for an optimal listening experience.  Digital filters adjust the pre- and post-ringing of the impulse response of music with three filters which users can select. Four pre-programmed presets mix and match sound frequencies and decibel scales to produce the quality of audio found in professional earphones.
The V30/V30+ is the first global smartphone to support MQA (Master Quality Authenticated) technology that allows for the streaming of high-resolution audio. MQA captures the sound of the original studio master and folds it into a small file to make high-resolution audio easy to stream. The V30's recording capability is upgraded as well, with a receiver that doubles as a microphone to capture a broader sound spectrum.
The main camera has also been upgraded and now features an F1.6 aperture that lets in more light for brighter, more dynamic shots. LG has paired it with a glass Crystal Clear Lens which the company says delivers more accurate colours and clearer images than a plastic lens. The second lens in the V30 dual camera is an upgraded 13MP wide angle lens with two-thirds less edge distortion than in the V20.
These images were taken with the V30+ and are unedited and unfiltered.
The V30+ retains LG's incredible manual mode for photography as well as manual mode for video but throws in a few new features.
LG's camera also has a new Cine Video mode allows anyone to produce movies like a pro, thanks to its Cine Effect and Point Zoom features. You'll now be able to take high-quality videos enhanced by the cinematic hues of various movie genres with only a smartphone. Typical cameras only allow one to zoom in on the center of the frame, Point Zoom allows users to zoom in on any subject smoothly using the zoom slider, regardless of its position in the frame, another industry first. And Cine Effect provides a palette of 15 presets to give videos a unique movie-like look, from romantic comedy, summer blockbuster, mystery, thriller and classic movie, among others.
LG V30 supports LG-Cine Log which allows for greater creative flexibility when capturing videos. With the ability to preserve a wide dynamic range and color gamut, LG-Cine Log videos files can save far more accurate image details. LG-Cine Log also allows for recording video using log gamma curve for maximum flexibility in producing the look the user wants during post-production.
Final Thoughts
LG's V30+ (the V30+ is not a larger phone than the V30, it just has more onboard storage – 128GB) is not only the best phone ever made by the company, it's also one of the best smartphones of 2017.
It has everything you need – a great display, impressive camera, great audio capabilities, a 3.5mm headphone jack and a beautiful water resistant design – and more than you'd expect from a smartphone.
The V30+ is a refined powerhouse which has the ability to take on Samsung's Note 8 and Apple's iPhone 8 Plus and win.
Key Specifications:
Chipset: Qualcomm Snapdragon 835
Display: 6.0-inch 18:9 QuadHD+ OLED FullVision Display (2880 x 1440 / 538ppi)
Memory

V30+: 4GB LPDDR4x RAM / 128GB UFS 2.1 ROM / MicroSD (up to 2TB)

Camera:

Rear Dual: 16MP Standard Angle (F1.6 / 71°) / 13MP Wide Angle (F1.9/ 120°)
Front: 5MP Wide Angle (F2.2 / 90°)

Battery: 3,300mAh
Operating System: Android 7.1.2 Nougat
Size: 151.7 x 75.4 x 7.3mm
Weight: 158g
Network: LTE-A 4 Band CA
Connectivity: Wi-Fi 802.11 a, b, g, n, ac / Bluetooth 5.0 BLE / NFC / USB Type-C 2.0 (3.1 compatible)
Colors: Aurora Black / Cloud Silver / Moroccan Blue / Lavender Violet
Others: IP68 Water and Dust Resistant / MIL-STD 810G Compliant / Crystal Clear Lens / 32-bit Hi-Fi Quad DAC / HDR10 / Daydream / Google Assistant / UX 6.0+ / Voice Recognition / Face Recognition / Fingerprint Sensor / Qualcomm Quick Charge 3.0 Technology / Wireless Charging