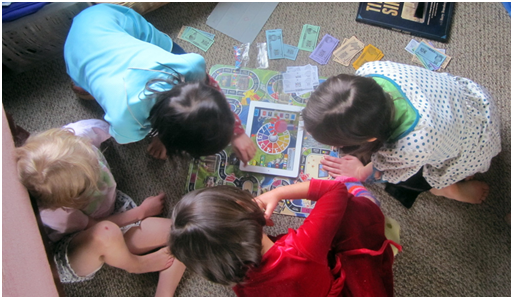 "I'm bored." If you're a parent then you probably hear these words often. "Be paper, then." is usually my response, but this doesn't seem to fair particularly well with the offspring.
As parents, we are constantly tasked with having to think of new ways to keep our children entertained. Barbie dolls, Hot Wheels, PS4s, Cartoon Network and the like will only keep them entertained for a limited amount of time before "I'm bored, what can I do?" enters the room.
Do we then drop everything and race off to a games arcade? Maybe download a new mobile game. Or do we simply send them off in search of their own entertainment?
I'd like to think that we should put a little more effort into what shapes our children's minds when it comes to entertainment, while we still can. So here's list of inexpensive traditional and unconventional ways to keep the kids entertained during the school holidays:
Fun in the kitchen
Baking and cooking with kids can be challenging, but it's a great way to spend quality time with the little ones, and teaches the older kids new skills too.
Knitting
My mother taught my daughter how to knit. A skill that I had thought I'd forgotten until I pulled it from the 'archives' to help her save a dropped stitch. Such simple skills are often lost to new generations. Don't be afraid to teach your daughters (or son) how to stitch and knit; it will come in handy along the way.
Write a story
Spelling and grammar is not important. Allowing their creativity to flow freely is. You'd be amazed as to just how much you can learn about your child, and how they view the world, when they put pen to paper.
Board games
Board games are an age-old tradition when it comes to keeping the family entertained. It also aids social development and the art of competing for fun. Family-oriented games like Monopoly, Pictionary and Trivial Pursuit, to mention but a few, can easily replace technology and other more modern distractions as a form of entertainment.
Take a walk
A visit to the park and a walk around a block or two is often underrated. Sometimes the best cure for boredom is good company and a little fresh air.
Visit the library
If you need a break and some quiet time, take a trip to the library. Allow your children to immerse themselves in a world of books, where silence is the order of the day.
Plan a play date
You might consider yourself to be a hip and relatable parent, but sometimes kids just need to be kids, and to achieve this they usually require the company other children. Plan play dates with friends, family and neighbours whom you trust, to ensure that your child gets the necessary social stimulation he or she needs.
Visit the museum and planetarium
Learning about the past and the stars shouldn't be limited to a classroom or the Discovery channel. Feel free to explore other national landmarks and historical places in and around your town.
Spend time on a farm
Farm houses are often overlooked when it comes to inexpensive family vacations. If you have the time to breakaway, spend a week or a weekend on a farm and allow your kids to enjoy the simple side of life.
Indoor camping
A house is meant to be lived in. Let the kids have fun by making makeshift tents and forts out of blankets and old boxes. You'll be amazed to see just how far their imaginations take them.
These are ideas a simple and nothing foreign to the world of entertainment, but their value far outweighs any gadget, video game or movie, when it comes to your child's developmental milestones.
How do you keep your children entertained during the school holidays? Share it in a comment below.