Looking for an ultra-portable drone? While there are loads of compact drones on the market, DJI is changing the game with the launch of the brand new DJI Mavic Mini, its lightest and smallest foldable drone yet. Designed to be an everyday FlyCam, the ultra-light folding drone builds on the technological innovations in DJI's renowned series of folding Mavic drones, from the original Mavic Pro through Mavic Air and Mavic 2, to pack professional-quality drone features into the lightest possible frame.
Weighing just 249 grams, DJI says the Mavic Mini is super portable, easy to fly, and designed for safety, making it the perfect drone for anyone who wants to experience the fun of flying. The drones small size and safety features in many areas exempts it from regulations that apply to other, heavier drones, putting the device in the 'safest drone' category. (Drone pilots must, of course, always understand and follow local laws and regulations).
Mavic Mini incorporates DJI's renowned safety technology, including geofencing to help drone pilots avoid restricted areas; AeroScope remote identification to help protect sensitive locations; built-in altitude limits; and automatic return to the launch point if the drone loses connection to the controller or reaches critically low battery level.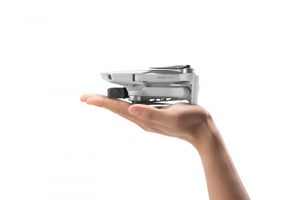 Mavic Mini's high-grade camera captures compelling footage in high definition, and the new DJI Fly app's suite of creative features seamlessly transforms photos and videos into professional-quality productions. Shoot in 2.7K video at 30fps, 1080p at 60 frames per second, or take 12-megapixel photographs using the 1/2.3-inch sensor. A three-axis motorised gimbal supports and stabilises the camera, ensuring the footage is smooth.
Its enhanced, stable flight performance provides more opportunities to explore using one of the longest flight times for a drone of its size. What's more, users can unleash their imagination with Mavic Mini's exciting accessories, including a DIY Creative Kit and a 360° Propeller Guard for added safety.
"To design a drone as lightweight, compact yet capable as Mavic Mini was one of the most challenging projects we've ever tackled at DJI," said Roger Luo, President, DJI. "Distilling top-of-the-line features into a palm-of-your-hand drone is the culmination of years of work, and we are ecstatic to bring a new class of drone to the DJI lineup. Mavic Mini's long flight time, ultra-light weight and high-quality camera makes it DJI's everyday drone–and most importantly, it's easy to fly, no matter your experience level with drones."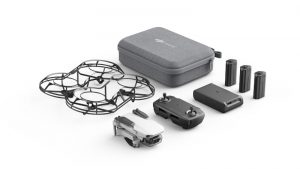 Created to be the drone for everyone, even those new to drones, Mavic Mini is simple to operate and fly using the dedicated remote controller. The ultra-light design and high-grade motors provide Mavic Mini with up to 30 minutes of flight time, giving users with more time to explore and capture content. A WiFi transmission signal delivers stable control and an HD live feed for a clear, confident flying experience. GPS receivers and downward visual sensors detect the ground below Mavic Mini, enabling precise hovering, stable flying and accurate landing both indoors and out.
Mavic Mini will be available in the second half of November at authorised retailers and partners. Mavic Mini will come in two purchase options, the standard version which includes Mavic Mini, remote controller, one battery, extra propellers and all necessary tools and wires for a recommended retail price of R6,999. Or the Mavic Mini Fly More Combo which includes all the components from the standard version with the addition of the 360° Propeller Cage, Two-Way charging Hub, three batteries in total, three sets of extra propellers and a carrying case for a recommended retail price of R8,999.
While you wait for the new DJI Mavic Mini to hit stores in South Africa, find the best prices on DJI drones and accessories online with PriceCheck now: