Need a shoe that can keep up with you on the road and at drinks with your mates? Puma might have just the thing. Built for comfort, style and performance the new Puma Hybrid NX TZ running shoes offer great performance for your road-running adventures and a sleek look for your day-to-day hustle. So, should this hybrid wonder be your pick for your next pair of running shoes? We put them to the test.
While this trainer might look better suited for upping your street cred, rather than racking up kilometres on a road run, the shoe does a great job of fusing technology with style to give you a high performance lifestyle running shoe.
Like many lifestyle-focused sneakers, the Hybrid NX TZ is lightweight, making it a joy to wear when you're running errands or travelling, but that lightweight feel is also an asset on a road run or in the gym. Heavier trainers can weigh down your legs, making those last few kilometres of a long run feel like a slog of note, but these trainers feel as light as air throughout your workout.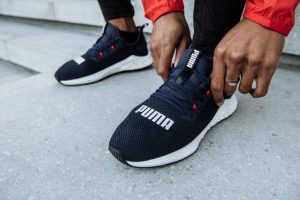 While the shoe is lightweight, it also offers more than enough cushioning for road running and gym sessions – and that's all thanks to the mid-sole. The shoe, which gets its name from Puma's line of dual-midsole shoes, offers a combination of Puma's 'Nrgy' Beads fused into Ignite foam, which gives Puma fans the best of both worlds on the technology front.
The Ignite foam is a high rebound foam that offers stability and rigidity, but also a healthy dose of responsiveness at the same time. Buried within the heel area is the NRGY Beads. Hundreds of the tiny little rubber beads are sealed within a transparent case in the heel, to help generate impressive energy return with each stride.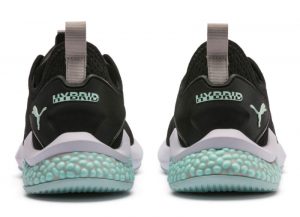 All this technology results in a shoe that is beyond comfortable. The thing we love most about the Hybrid NX TZ trainers is they're a grab-and-go kind of running shoe. With these shoes there is no break-in period at all, you slip them on and enjoy the comfort from your very first workout. But they're not just comfortable, thanks to the sock-like fit of the knitted upper, these trainers also fit like a glove from day one. This coupled with dynamic lacing, the heel clip, and rubber outsole make the shoe feel secure and stable in any cardio session.
If you've been searching for a great looking pair of shoes that will make pounding the pavement just a little bit easier, then you will love these new additions to the Puma range. They're ideal for newbie runners, those who enjoy a weekly 5 – 10Km run, or even cardio classes at the gym.
Shop the Puma HYBRID NX TZ running shoes online via PriceCheck now:

Want more fitness-related reads? Read all about Puma's Hybrid Rocket Runners!