Looking for a way to turn your not so smart TV into an entertainment hub of note? While a brand-new smart TV may be well out of your budget, a streaming device like the Google Chromecast may be just the thing you're looking for to bring smart functionality to your older model flat-screen TV. All you need is a television with USB and HDMI ports and you're in business. But, is the third-generation Google Chromecast the streaming device for you? We put the gadget to the test so you don't have to.
While there's not much new about the latest Chromecast, it's still an easy and affordable way to stream HD video over WiFi and may just prove to be the best choice for your streaming needs. If you already own an older generation version of the Chromecast, this third-generation iteration of Google's streaming device is this nearly identical to the second-gen Google Chromecast model, only it's a little faster. It's probably not worth buying this model as an upgrade but, if you're interested in buying your first streaming device, then Google's Chromecast is a worthy option.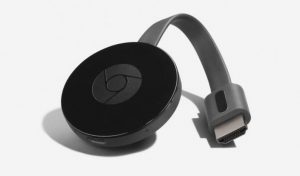 Still one of the best streaming devices, the new Chromecast is ideal for Android users looking to bring smart features to an older 1080p TV without built-in streaming capabilities. It may not have loads of bells and whistles but the Chromecast is still one of the best Google Home compatible devices for inexpensively watching Netflix, Showmax, and DStv Now, et al. on a big screen.
The Chromecast has the simplest, easiest-to-understand interface of any streaming device on the market. This is mostly because the device doesn't require you to learn a whole new OS to use it or play around with a remote control. Instead, you control the entire experience from your phone, tablet or computer using the Google Home app on your mobile device or by clicking the "Cast" button in a computer-based Chrome browser.
Just like the model that came before it, the new Chromecast is a small circular dongle that attaches to the back of your TV. On one side, there's a built-in HDMI cable, on the other there's a micro USB port for power. The Chromecast comes with both a micro USB cable and a power adapter, just in case you have a TV without a USB port.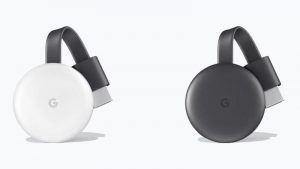 The device enables you to "cast" whatever content you're watching onto your TV. Controlling the Chromecast is super easy and once you've cast your chosen video onto your TV you can pause, play, fast-forward, rewind and adjust the volume via your phone.
While the process is just as simple as the first version of the Chromecast, with this new model it's quite a lot faster and a lot less buggy. Google says the third-generation version of the Chromecast is up to 15 percent faster than the previous model and I can confirm it's a definite upgrade from the first generation model which has a tendency to lag and lose connection every now and then.
Intuitive streaming has always been the key selling point for the Chromecast, and with this new version that hasn't changed. It's well worth investing in as a no-frills, gets-the-job-done streaming device. It's super easy to transport for easy streaming on the go and would make a great gift for a student with a decent internet connection.
Find the best price on the Google Chromecast online with PriceCheck now: