We all like getting more bang for our buck. It's the reason Spur's much-missed 'Salad Valley' was so popular. While bare-bones entry-level cars make up a huge portion of car sales in South Africa, high-spec budget cars like the Ford Figo are becoming increasingly popular amongst consumers who are looking for a more 'luxury' driving experience at an 'in-betweener' price point.
Known as the model of choice for students, the Ford Figo is back with a new look and a whole lot more to offer to anyone looking for an affordable car option. With a completely new shape and loads of extras, the new and refreshed Ford Figo is proof that affordable doesn't have to a bore. We took the flagship Ford Figo Hatch 1.5 Titanium (2019) for a spin to see how this fabulously frugal car shapes up to its bigger, more expensive siblings in the Ford lineup.
While entry-level cars are known for keeping things simple, the Figo gives you the feeling you're getting just a little bit more for your money. With a modern shape and just enough technology to satisfy any Millennial, the Figo does a great job of bringing the budget car into the future. There's no doubt, the Figo has grown in leaps and bounds since it first launched in South Africa ten years ago. The little sister to the dashing Ford Fiesta, the new Ford Figo is a high-spec budget vehicle anyone would love to own.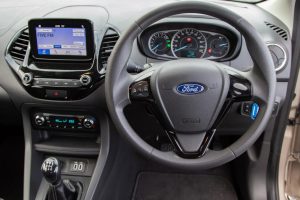 Even with a modest 3-cylinder, 1.5-litre engine, this little car moves and is ideal for zipping around the city. Plus, it has loads of onboard technology features to make driving the Figo a real pleasure. Ford has upped the ante in this entry-level gem by putting the same Ford Sync infotainment system in all its vehicles. The Figo is fitted with two USB points with iPod functionality, steering mounted audio control, and a 6.5-inch heads-up display with touch screen, giving you the ability to control the sound system, make and receive calls, and read text messages through Ford Sync and phone to car Bluetooth connectivity.
Additional safety and security features include a rear-view camera, to make reversing and parking super easy, drive-away locking to keep your car secure at all times, ABS with EBD and 6 airbags (front-, side- and curtain bags), remote central locking, as well as an alarm and immobiliser.
With the Figo 1.5 Titanium, Ford sought to ramp up the value for money offering at the top end of its Figo range and there's no doubt this car offers exceptional value for money. Coming in at around R224 200 for this higher-spec version of the budget wonder, the Figo is a great option for anyone looking for a reliable daily commuter with all the trimmings.