Designed with discerning audiophiles in mind, Bang & Olufsen's Beosound Edge wireless speaker is the ultimate in luxury tech. But, with a R50,000-plus price tag, this isn't your average Bluetooth speaker. While many people could only dream of owning a piece of luxury tech such as this, I got the chance to test out the Beosound Edge for a few weeks and catch a glimpse of how the other half lives.
The massive, circular, wireless speaker not only looks like a piece of modern art, but it also pumps out impressively clear sound and potent bass from both sides, filling the room with pitch-perfect surround sound. Plus, with a massive 800W of sound output, the Beosound Edge is easily one of the most powerful wireless speakers B&O has ever designed. Measuring 50.2cm across and 13cm wide, this over-sized speaker is designed to be positioned in two ways — rest it on its edge, like a coin, or hang it from a wall like a clock.
But the unusual design isn't just for aesthetic purposes, the circular design also plays a part in the speaker's control system. Rather than relying on your usual hardware volume controls to raise and lower the sound, rocking the speaker controls the output level. The more intense the rock (as measured by an onboard accelerometer), the sharper the increase or decrease in sound. You can also control it using the B&O app, giving you the option to control it from wherever you are.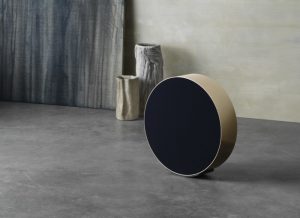 The speaker's circular design also allows the device to offer customisable sound features. The Edge can distribute sound equally from either of its faces, giving you true 360-degree audio when you're using both sides. There is surprisingly little sound bleed on the muted side when using this feature, even with the sound cranked up on the opposite side.
Other great features of this cutting edge speaker include a proximity sensor, that lights up the controls as you approach, an Ethernet port, and both Bluetooth and WiFi connectivity. The device also supports AirPlay 2 and Chromecast, letting you beam your tracks from across the room.
There's no denying the Beosound Edge is a show stopper in terms of looks, and the sound most definitely lives up to its design, and price tag, but whether Bang & Olufsen's luxury speaker is insanely cool or just insane is up to you. Splashing out over R50,000 on a speaker may seem crazy to some but to others, the device is sure to be well worth the splurge.
Review: Bang & Olufsen Beosound Edge Wireless Speaker
Incredible sound quality.
Beautiful modern design.
Find the best bluetooth speaker for your budget online with PriceCheck. With a wide variety of wireless speakers and audio products from a multitude of online stores, PriceCheck takes the chore out of shopping around.
Words: Crystal Espin