Whether you're commuting to work, breaking a sweat in the gym, or relaxing poolside, wireless earbuds are one of the best ways to listen to your music on the go. Up until recently, Bluetooth headphones weren't exactly the best way to listen to music, with connectivity issues, short battery life, and poor sound quality being some of the biggest reported issues. Luckily, times have changed and thanks to improvements in wireless transmission technology Bluetooth earphones have come a long way. Devices like Apple's Airpods have been hailed as the best of the best in truly wireless earbud technology but are these buds the right choice for your needs? We put Apple's Airpods 2 to the test so you don't have to.
While Apple's second-generation wireless earbuds aren't a big departure from the previous iteration there are a few new features and additions that are well worth noting. Much like the previous version, Apple's wireless headphones are very different from the inner-ear canal-bud style earphones from other competitor brands. While other brands of earphones fit directly inside the ear, these versions from Apple gently rest in your ear with little white stalks sticking down.
If you aren't looking for noise-cancelling earphones, then these are a great option to consider. With these headphones in your ears, you'll still be able to hear everything happening around you which is great for staying in tune with your surroundings when running or walking the streets. Of course, it also means they'll bleed sound quite drastically when you're in loud areas like an aeroplane or train. The sound bleed isn't as big of a problem though and the headphones still sound pretty good considering the lack of isolation, with reasonable bass and clarity even in loud surroundings.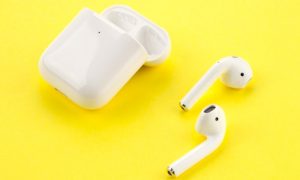 Of course, the AirPods work best with Apple devices and automatically sync with any of the latest Apple devices you may have such as a smartphone or laptop. Apple's new H1 chip in this new version of the AirPods allows for faster connections with all of your Apple devices. Although designed to be an iPhone accessory, the earbuds can also be paired with Android or other devices and you'll get a very decent connection with iPhones as well as more recent flagship Android devices. After testing these earphones with both Apple and Android devices I experienced very little connection issues which is hard to come by with Bluetooth earphones these days.
As for onboard controls, the AirPods are limited when comparing them to other smart earbuds. When connected to an Android device, a simple double-tap pauses or plays music. Connecting the AirPods to an Apple device, of course, opens up more control options and users can trigger Siri by saying; "Hey Siri" to pause, skip, or play a track on each individual earbud. This gives you the option to use Siri on one earbud while the other pauses. There's no volume control. Take them out and the music or sound automatically pauses. You can also opt to use the AirPods on their own in 'mono' mode without losing much sound or call quality.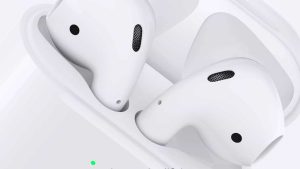 A big thing to consider when buying true wireless headphones is, of course, battery life and the Apple AirPods 2 charging case makes this new iteration of Bluetooth headphones one of the best in the business. The AirPods give you about five hours of music on one charge and can be fully charged around five times by the case, which itself is charged via a Lightning cable.
While the new AirPods are an incremental upgrade to previous versions of Apple's true wireless earphones, they're a great choice for anyone looking to splurge on a pair of excellent quality earphones.
Find the best price on Apple AirPods online with PriceCheck now: