Fitness fanatics and techies now have even more options in the smartwatch game, thanks to Puma. The performance and athleisure brand has just launched its very first smartwatch too much industry acclaim. Debuted at the IFA consumer electronics trade show in early September this year, the new Puma smartwatch has already won multiple awards from tech and industry publications.
Designed to help athletes train, stay motivated, track goals and connect with others, the new smartwatch is one of the lightest Wear OS smartwatches on the market. Powered by Wear OS by Google technology and equipped with the Qualcomm Snapdragon Wear 3100 platform, Puma's smartwatch offers a wide range of covetable features and pairs with the PUMATrac app enabling you to track every step.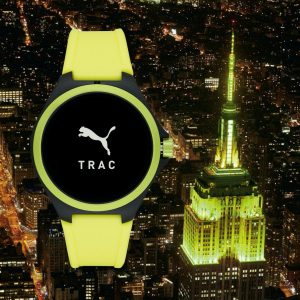 Keen runners can use the PUMATRAC watch app to track runs and gather continuous measurement of distance, time, heart rate, and calories, making it easy to see if your runs are in your ideal range. The watch can be used on its own so users can leave their phones at home and go for a run, without carting around multiple devices.
PUMA Smartwatch users can also choose from several interactive dial options, like the "Scorecard" dial which displays time, date and heart rate, and gives the ability for users to customise the information they can quickly view at a glance. "Reach" fills the watch face with green cells as you get closer to your daily activity goal, while "Heartrate" reflects the speed of your heartrate with a colourful wavelength. Finally, "Bounce" features a springing soccer/football or basketball (user's choice) that displays data.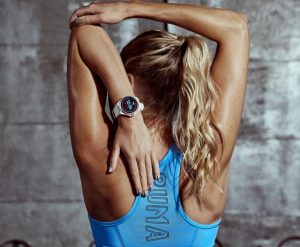 Bringing the best of sports lifestyle and technology together, the Puma Smartwatch is designed to look and feel good, with a cut-out nylon and aluminium case that delivers an ultra-lightweight fit, and a textured silicone strap for excellent grip and breathability. Available in three fashion-forward colourways, the Puma Smartwatch easily transitions from the gym to the street.
Get busy! Find the best prices on smartwatches and fitness trackers online with PriceCheck now: