There's a saying that good things come in pairs. For anyone with considerable dental hygiene considerations, Oral-B has developed two new impressive innovations. The new Oral-B GENIUS intelligent toothbrush system and Oral-B Gum & Enamel Repair Toothpaste are exactly what dental health professionals will need for the finest attention to detail in terms of dental health.
Currently more than 50% of the global adult population are facing gum health problems. Many patients ignore the symptoms, or only notice and act once it is too late. Combining Oral-B's Intelligent Toothbrush System and Oral-B's Gum & Enamel Repair toothpaste, adults facing these oral health issues can not only prevent further development of gum and enamel problems, but can reverse them.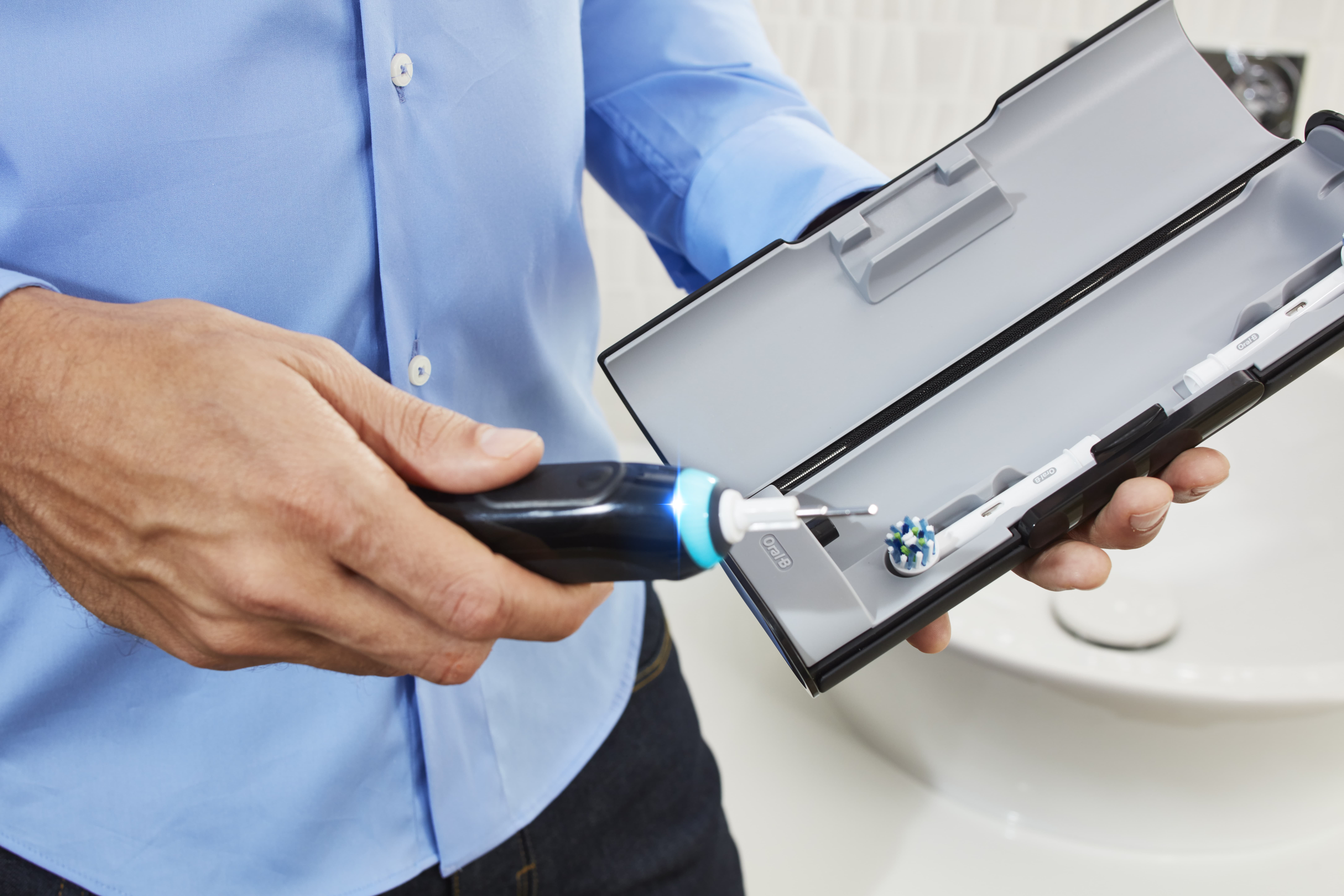 Oral-B GENIUS – Helps Users Brush like Their Dentist Recommends
First up is a toothbrush so intelligent it had to come with its own app. The new Oral-B GENIUS features ground-breaking Position Detection Technology that combines cutting-edge motion sensing technology located in the brush, and video recognition using the smartphone's camera, to track areas being brushed so that no zone is missed. Users receive instant feedback on the brushing of each zone of the mouth via the Oral-B App 4.1, including guidance on pressure applied and brushing duration. These features, combined with the Oral-B Oscillating-Rotating-Pulsating Technology and the unique round brush head, help users improve their oral health.
Healthy Teeth Status through Targeted Digital Guidance
Over time, brushing incorrectly can result in oral health issues such as tooth decay and even early tooth loss. Using Oral-B GENIUS, users are able to actively monitor their brushing routine via the Oral-B App 4.1. This real-time feedback reduces guesswork, enabling users to brush for the dental professional-recommended two minutes, not apply too much pressure while brushing and – thanks to the new revolutionary Position Detection – never neglect those commonly missed zones.
It's About Brushing for the Right Length, Not Pressing Too Hard, and Never Missing a Zone
Oral-B GENIUS includes best-in-class product features, making it the most intelligent brushing system available that helps consumers smarten their daily brushing routines:
Position Detection Technology: Senses and recognises areas of the mouth users are cleaning via sensors built into the brush in combination with the smartphone.
Oscillating-Rotating-Pulsating Technology: Oral-B proprietary technology cleans tooth by tooth and its round brush head reaches areas that are often difficult to manage, providing a superior cleaning every session compared to a regular manual toothbrush.
Pressure Control Technology: This technology protects gums from overaggressive brushing by visually indicating when too much pressure is applied, automatically slowing down the brush head speed, and stopping the pulsations.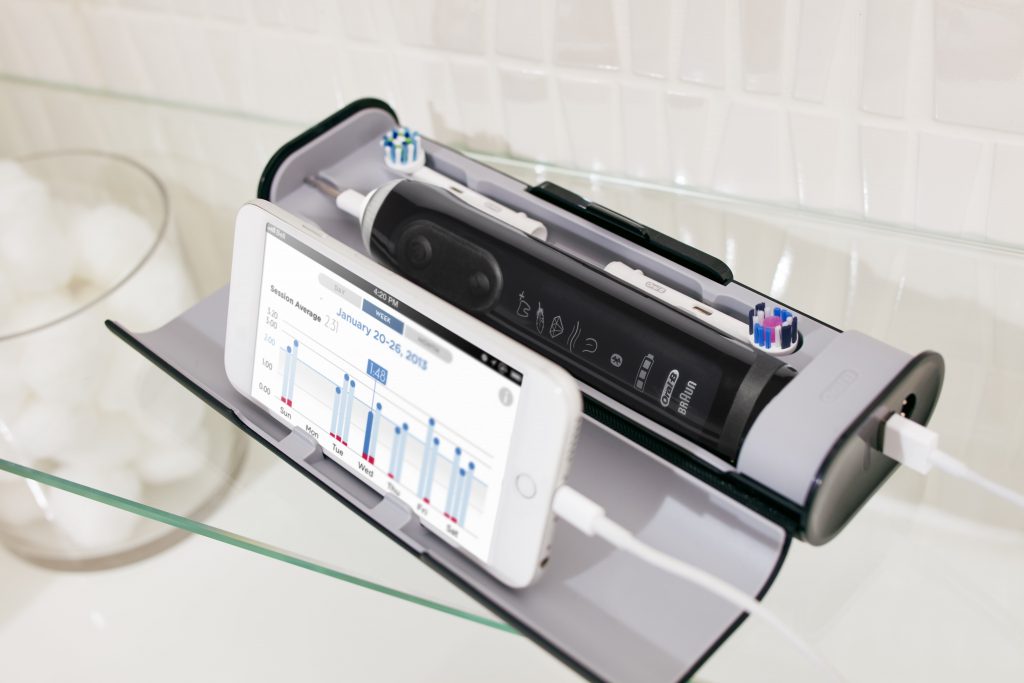 Oral-B Gum & Enamel Repair Toothpaste – Give Your Mouth a Second Chance
A recent study showed that almost a third of 18-35 year olds have weakened enamel. While  being cited as frustrating for those who experience these symptoms,  and is an extremely common issue amongst people of all ages,  patients often ignore the signs or don't even know they are suffering from gum and enamel damage.
Clinical evidence has proven that specialised toothpaste can provide significant gum health benefits. In fact, over 31 studies show that Stabilised Stannous Fluoride adds value to tooth brushing through reducing gum inflammation and bleeding.
This is where the second part of this oral hygiene regimen comes in. The new Oral-B Gum & Enamel Repair Toothpaste is the best clinically-proven toothpaste from Oral-B to help improve gum health and repair enamel in just two weeks*. It features ActivRepair™ technology, which is proven to work at the gum line to target both gum and enamel problems. ActivRepair repair technology contains two forms of Stannous: Stannous Fluoride and Stannous Chloride, which makes it the best clinically-proven toothpaste from Oral-b to help restore gum health and prevent enamel erosion. 
Furthermore, the new toothpaste is suitable for sensitive teeth and defends teeth against acid erosion, plus it helps repair the enamel and provides antibacterial action for healthier gums..   
Benefits of Oral-B Gum & Enamel Repair Toothpaste 
Healthier Gums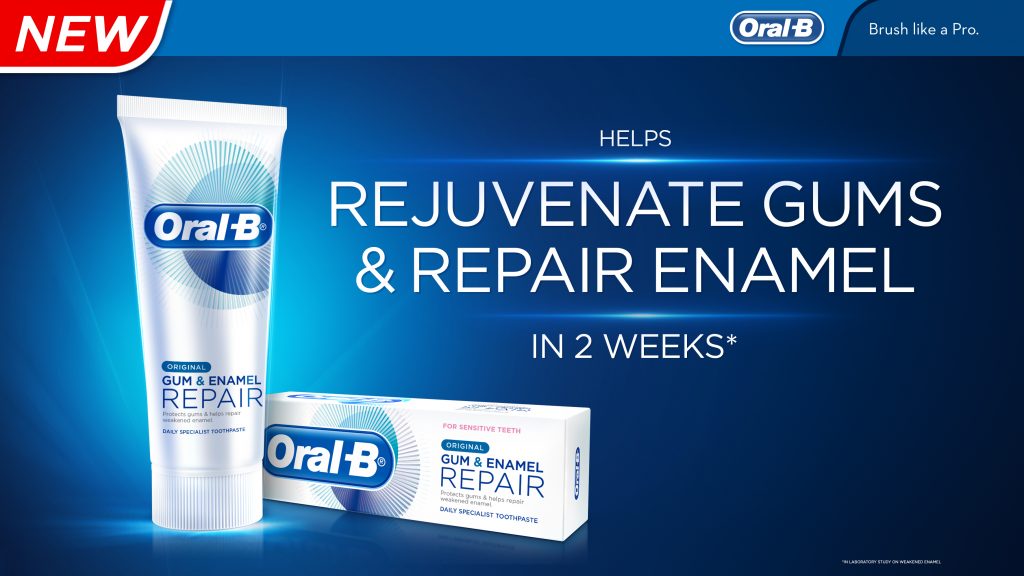 Bacteria builds up in our mouth every day. Oral-B Gum & Enamel Repair with ActivRepair technology provides exceptional antibacterial action and it inhibits bacterial growth in plaque, to help make gums healthier..

ActivRepair technology provides 70% more Stannous vs. Oral-B Pro-Expert for better bacterial control through antibacterial action and bacterial growth inhibition of plaque.

Through this, the new Oral-B Gum & Enamel Repair Toothpaste can deliver up to 72% fewer gum problems versus ordinary toothpastes.
Helps Repair Enamel
ActivRepair technology actively remineralises weakened enamel and creates a long lasting protective shield to defend teeth against acid erosion.

With continued use, Oral-B Gum & Enamel Repair Toothpaste makes your teeth 3x stronger against enamel erosion versus ordinary toothpastes

. 
The Toothbrush System and Toothpaste for Discerning Oral Hygiene
The Oral-B GENIUS is currently available in select South African retailers. The Oral-B App 4.1 is available on iTunes and Google Play.
The Oral-B Gum & Enamel Repair Toothpaste is available in four variants, for all your gum and enamel needs. Oral-B Gum & Enamel Repair Original, Extra Fresh, Gentle Whitening and Gentle Clean. 
References
*In a laboratory study on weakened enamel