In an exciting move, Hasbro has announced an all-new type of Monopoly game celebrating female trailblazers in the business world. Ms. Monopoly, not only offers a whole new way to play the iconic board game but the game also marks the first time in the franchise's history where a new character will grace the cover. While Mr. Monopoly is a real-estate mogul, Ms. Monopoly is an advocate whose mission is to invest in female entrepreneurs.
Over the last few years, the much-loved board game manufacturer has released all sorts of new Monopoly games to the franchise but this time around the focus is on girl-power. In this new version of the game, properties are replaced by ground-breaking inventions and innovations made possible by women throughout history. From inventions like WiFi to chocolate chip cookies, solar heating and modern shapewear, Ms. Monopoly celebrates everything from scientific advancements to everyday accessories — all created by women. In Ms. Monopoly, instead of building houses, players build business headquarters and focus on growing their business empire.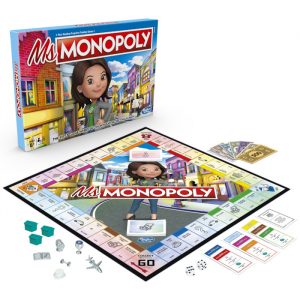 Ms. Monopoly is also the first-ever game where women make more than men — putting a fun spin on the game where women have an advantage. However, if men play their cards right, they can make more money too.
Ms Monopoly will be landing in South Africa in early December, just in time for the summer holidays and will be available from leading retailers across South Africa. 
Love board games, browse a wide selection of board games online with PriceCheck now and find the best prices on deals on games for the whole family!