Great news for selfie lovers, Canon has just joined the instant camera printer market with the all-new Canon Zoemini series. Shoot, print and share selfies on-the-go with the Canon Zoemini S and Canon Zoemini C instant camera printers and unleash your creativity on the world! Following the success of the original Canon Zoemini instant printer, the new Zoemini series offers users an all-in-one portable camera-printer solution that is sure to provide hours of fun.
With two gadgets to choose from, the all-in-one instant camera printers are the perfect pocket-sized companions for encouraging creativity with easy-to-print, peel-and-stick photos on the go. Available in four vibrant colours (bubble gum pink, bumblebee yellow, mint green and seaside blue), the entry-level Canon Zoemini C features a five-megapixel camera and front-mounted mirror, enabling you to capture and print and export photographs on-the-go.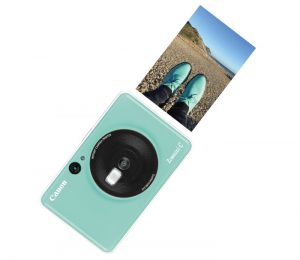 The Canon Zoemini S is ideal for those looking for more premium features. Ideal for capturing, printing and sharing pictures of your holiday adventures, a spontaneous selfie, photos with friends, or an Instagram-worthy plate of food, this pocket-sized camera is well worth the extra splurge. Featuring an eight-megapixel camera, front-mounted mirror, ring-light and remote shutter capability, the Canon Zoemini S is a selfie lover's dream. The little gadget offers exceptional portability and is available in three stylish finishes; rose gold, matte black and pearl white.
Both the Canon Zoemini S and Canon Zoemini C gives users the freedom to shoot and print mini photos in a matter of moments on 2×3-Inch Zink sticky-backed photo paper but users can also choose to save and edit photos rather than print every image instantly. The Zoemini C offers storage capability with a Micro SD card slot while the Zoemini S through Bluetooth and an app.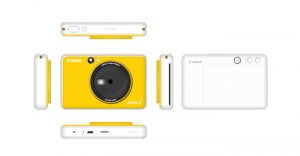 The Canon Zoemini S is supported by the free-to-download Canon Mini Print App (iOS/Android), which offers remote shutter and self-timer function while also giving users a range of ways to print, edit, and share their photos. Use the app to share your images directly to Instagram and Facebook, save to Google Photos and Dropbox, or print images directly from a smart device using Bluetooth as well as edit from an array of creative filters and frames.
Both the Canon Zoemini S and Canon Zoemini C will be available from the end of May 2019.
In the market for a new camera? Shop a wide range of cameras and photography equipment on PriceCheck now. 

Want more tech-related reads? Check out our Tech section for more gadgets news, reviews, and features.