We all love a good seafood dinner but often we leave the lavish seafood feasts to the weekends when we have more time to create a seafood feast worthy of a lazy Saturday afternoon.  But, this gorgeous recipe for West Coast mussels is quick and oh-so-easy to whip up on a weekday evening. Created by Spier's Executive Chef, Lolli Heyns this dish is even more special when paired it with a glass of Spier 21 Gables Chenin Blanc.
Find the perfect bottle of wine to pair with this dish online with PriceCheck!

West Coast mussels with white wine, leeks, lemon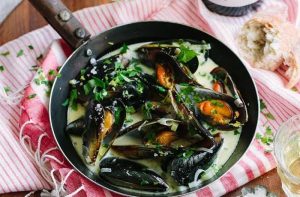 Serves four to six
Prep and cooking time: 30min
Ingredients
30ml olive oil
30ml butter
One small bunch leeks, finely chopped (white parts only)
3 cloves garlic, finely chopped
Half a bottle white wine (Chenin Blanc is ideal)
1.5 – 2kg cleaned fresh black mussels
125ml fresh cream
Rind of one lemon, finely grated
Salt and pepper to taste
Chopped fresh herbs, to serve (parsley and dill pair nicely)
Method:
Rinse the mussels under cold tap water to clean them. Scrub the outsides if they are a little hairy, then pull off the grassy "beard" from the pointy side to the round side. They are now ready for the pot. Remember, any mussels that won't close before cooking must be discarded. And any mussels that won't open after cooking, can also be tossed.
In a wide heavy-based pot or casserole, heat the oil and butter over medium heat. Fry the leeks and garlic until soft and translucent, but not too brown.
Add the wine, turn up the heat and bring to a boil. Add the mussels all at once and cover with a lid. Bring to a boil again and steam for five to eight minutes until they are open and just-cooked.
Add the cream and heat through, then take off the heat and add the lemon rind.
Season to taste with salt and pepper (some mussels can be very salty already, so be careful).
Serve piping hot scattered with chopped herbs and warm crusty bread to dip in the leftover sauce.
Love cooking? You'll find a wide range of recipe books at excellent prices online at PriceCheck.

Check out our Recipes & Cooking section for more recipes, foodie features, and news to make you salivate.