Whether it's on a balcony with a view or a garden patio surrounded by trees, we all dream of having a comfortable outdoor space to hang out in. Sadly outdoor patio furniture can be very costly so achieving the patio of your dreams is often out of most people's budgets. But, with a little know-how and some elbow grease, having a Pinterest-worthy outdoor space doesn't have to cost the world. Even if you're on a budget, creating a lust-worthy outdoor space is easy with these DIY patio furniture tutorials.
Sitting pretty on a rustic DIY bench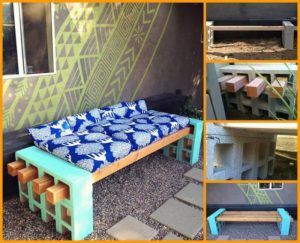 If a bench is all you need for your patio to be complete, then this super easy DIY bench could be just the project for you. This bench design is super easy to pull off and uses concrete blocks to make the supporting structures for the sides and wood slats for the seat. To create the bench you'll need 12 cinder blocks and 4 wooden poles (square: 7cm x 7cm). Place four blocks next to each other in an upright position, the stack two blocks on top of these blocks in a horizontal position. Repeat the with the other blocks, placing them at the distance equivalent to the length of the bench. To determine the ideal length, place a wooden pole on the ground. Place the wooden posts in the openings of the top two blocks. Add a comfy mattress and some cushions and you're done!
Cheers to the weekend at a garden bar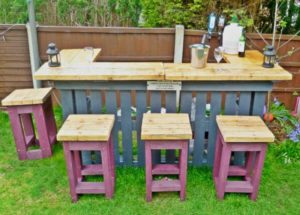 Forget forking out a pretty sum for your own patio bar, create your own with this easy DIY outdoor bar tutorial. When summer rolls around, an outdoor bar is the perfect project to welcome warmer weather. It's really simple too. You can make one from discarded pallets and scrap timber and the bar top can be made from inexpensive wood slats. Find the full tutorial on Recyclart.
Hang out on DIY palette furniture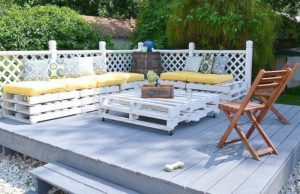 Creating an outdoor couch for your garden or backyard is easier than ever before with this detailed tutorial. Follow the in-depth instructions and diagrams and stack your way to a comfy garden hangout that is sure to impress your guests. This easy-to-follow tutorial will show you how to create a large, comfortable, versatile outdoor couch made entirely out of the old pallets. Just grab some pallets and you should be ready to sit on your newly made outdoor couch within a couple of hours!
Love DIY? Shop for everything you need for your DIY projects online via PriceCheck now!