Often considered an unattainable car for the every-man, the new Ford Mustang is drifting out of the realm of fantasy into real-life aspirational status. The muscle car's appearance in countless Hollywood films, such as Need for Speed and the John Wick franchise, has given it a somewhat mythical aura, but it's good to remember that this car can be owned by actual everyday people. Of course, it carries a notable price-tag, but not so hefty that the highly successful amongst us can't afford to park it in our double garage.
Ford is doing its darnedest to bring the Mustang into the forefront of the sports car market in South Africa. Their efforts in showing ordinary South Africans that this car is attainable for almost anyone with a healthy bank balance, have resulted in the Ford Mustang being the best selling sports car in South Africa at the moment… and for good reason. If you've ever driven a Mustang you'll know, this isn't just another car. Sure, there are loads of performance cars out there, but Ford's pony car is something truly special.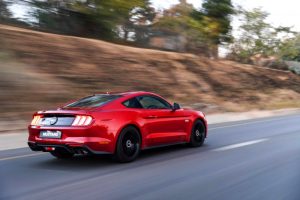 It's enormously good fun to drive and whether you're cruising country roads with the top down in the fuel-efficient 2.3-litre EcoBoost, turning heads with the ultra-powerful 5.0-litre V8, or living out your teenage fantasies in the limited-edition Mustang Bullitt, this car always leaves you wanting more.
Everyone loves an upgrade
Both the 2.3-litre EcoBoost and 5.0-litre V8 Mustang GT models are available in Fastback and Convertible body styles, in a choice of nine bold exterior colours, and come complete with some pretty impressive upgrades in 2019. These newer iterations of the Mustang offer Ford's advanced 10-speed automatic transmission, sleeker styling, as well as sophisticated engine and suspension enhancements.
Ford's 5.0-litre V8 engine delivers more power and a higher rev-limit than ever before, with peak power climbing to 309kW on the previous model to 331kW, with an accompanying torque peak of 529Nm, in the 2019 version. The more fuel-efficient 2.3-litre EcoBoost petrol engine delivers 213kW and 441Nm of torque – an increase of 11Nm.