Pregnancy can be an exciting time for expecting parents; your bundle of joy is just around the corner, and you've got a lot to prepare for. While this is an incredibly joyous time, it can also be stressful, especially for new parents. Luckily, The Kiddie Company, an online store run by mothers, for mothers, is all about making your pregnancy effortless. With hundreds of products to choose from and helpful advice for expecting and new moms, The Kiddie Company makes life easier by delivering your pregnancy essentials straight to your door. Because every mother deserves a helping hand in the months leading up to the big day.
The Essential Checklists – Everything Mum and Baby Needs
Keeping track of everything you need during and after pregnancy can be exhausting. Between a seemingly endless to-do list and pregnancy brain, it's easy to miss something, especially for a first-time mom. But, with the Kiddie Company's carefully crafted pregnancy and baby checklists, stocking up on everything you need will be a breeze. Check out these handy lists and pick and choose the maternity essentials that work for you while also discovering helpful pregnancy goodies you didn't even know you needed! The Kiddie Company pregnancy checklist is especially helpful for first-time mothers.
Not sure what you'll need? The Kiddie Company shares its pregnancy-must-haves to add to your list:
Comfortable and functional maternity clothes:
Just because you're pregnant doesn't mean you have to settle for baggy, unflattering clothing. You can find stunning, comfortable maternity clothes that will fit your contour perfectly while accommodating your baby bump. They're flattering, stylish, and ultra-comfy!
While maternity clothes are a must-have to feel your best during your pregnancy, even more important is a maternity bra to see you through your pregnancy and beyond. A maternity bra should be supportive, soft, breathable, and able to stretch to fit your ever-changing body, supporting your breasts through all 3 trimesters while offering the ultimate comfort even with the most sensitive of breasts.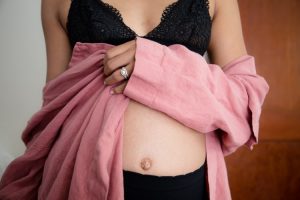 A Body Contour Pillow for a good night's sleep:
The bigger the baby gets, the bigger your tummy gets, and soon even sleeping will become a challenge. Pregnancy can cause back pain and many expecting moms report having trouble sleeping due to the pain. Offering support for the tummy, back, legs, and ankles, The Body Contour Pillow is no doubt an expecting momma's best friend. It's sure to be a lifesaver of note throughout your pregnancy and even comes in handy after the baby is born for support while breastfeeding.
Body lotions and oils to keep skin subtle and stretch marks at bay
While you're looking after your body, don't forget about your skin. Pregnancy can take a toll on your skin, and while stretch marks are a natural part of pregnancy, you can minimise their appearance with the right skincare products. A good skincare routine will not only help to soothe your skin but can also be relaxing and keep your skin in tip-top shape. We recommend opting for all-natural products that are gentle on the skin.
Invest in decadent, moisturising lotions and oils to help increase the elasticity of your skin and combat stretch marks. A good stretch mark cream or oil will help to reduce the appearance of stretch marks you may have already or stop them in their tracks. Luxurious body lotions for your legs can also help to reduce the tightness or puffiness you may experience during your pregnancy.
A prepacked hospital bag
Forget spending the last few days of your pregnancy stressing about packing a hospital bag for baby's big arrival. To minimise stress before your due date, experts recommend you have your hospital bag and anything else you may need ready at least two weeks before the due date. But, even advanced planning can be stressful. Instead of worrying about getting your hospital kit ready, you can rely on The Kiddie Company to lessen the load with their carefully created prepacked hospital bags. Packed full of goodies and necessities for your hospital stay, from nappy changing kits to maternity underwear, creams to nursing pillows, and nursing pads to swaddle blankets, a good hospital kit is an absolute must.
For more pregnancy tips and maternity essentials check out The Kiddie Company. Shopping online for all your maternity and baby needs is a great way to keep your pregnancy breezy and uncomplicated while reducing stress. Whether you're shopping for baby healthcare and sanitation items, baby prams and baby car seats, toys for babies and toddlers, or even breast care products, shopping online is the obvious choice!
The above sponsored post was done in collaboration withThe Kiddie Company.