For walkers who are looking for a good pair of shoes, it can be tempting to pick up a pair of running shoes. While dedicated walking shoes are often in short supply, many stores stock a wide range of running shoes in a variety of models and styles. If you're an avid walker, you're no doubt wondering if running shoes are good for walking. To help you make the best decision for your level of activity and budget, we take a look at running shoes vs walking shoes to figure which is better for you.
Running compared to walking:
Before exploring the differences between dedicated running and walking shoes, it's important to consider the differences between running and walking as an activity. While they may seem similar, running and walking are indeed quite different.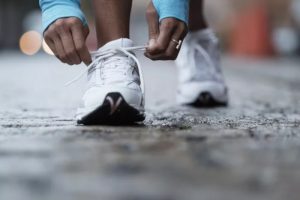 Runners strike the ground differently than walkers do. When a runner's foot lands (heel first or on the ball of the foot), two to three times their body weight is placed on their feet and legs, placing an enormous amount of force and strain on the body. On the other hand, a walker's foot typically lands heel-first, rolling forward to their toes, placing one to two times their body weight on the feet and legs. Runners also have moments where both feet are off the ground, while wallking ensures one foot is always on the ground and weight is more evenly distributed across the entire foot.
Running shoes compared to walking shoes:
Runners need added cushioning and support to protect against the extra force applied on the legs and joints while pounding the pavement. Which is why running shoes are designed to absorb pressure, help protect the joints, and enhance your running style. They also offer extra support at either the heel or toe and are less flexible with a stiffer sole. To counteract the heat generated while running, running shoes are often also constructed of breathable material with thin, mesh uppers to allow airflow to the shoes.
Walking shoes, on the other hand, have less cushioning and extra heel and arch support. Walking shoes are also a lot more flexible as the foot goes through a full range of motion when walking. In terms of style, running shoes come in a wide range of colours, vibrant patterns, and bold styles, while walking shoes are often only available in muted colours.
For runners, it's important to wear the correct shoes for your running style. Because it's such a high-intensity sport, running in the incorrect shoe can often lead to discomfort or injury. Walking, on the other hand, is more low-intensity, which results in walkers needing far less cushioning.
Which shoes should you choose?
The big question is; can you use running shoes for walking? The short answer is yes. But, depending on your needs, the type of walking you do, and style preferences, you may or may not want to use a pair of running shoes for walking.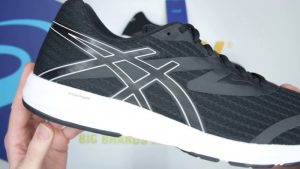 With a lightweight, performance-oriented design and a responsive ride, the ASICS Amplica can be used for up-tempo running as well as daily training. For the runner who prefers simplicity and functionality, the ASICS Amplica is ready to drop the pace.
Available from: Takealot
Price: from R899.

While the shoes you use for walking don't need to be as light and breathable as shoes you would use for running, they do need to provide good arch support. This is especially important to consider for anyone with high arches, who would typically have less natural shock absorption. Those with flat feet also have less support which can lead to muscle and joint stress. Walkers with flat feet should look for shoes that offer more stability.
Another important factor to consider is that running shoes have thick heel wedges to provide more cushion, while walking shoes have a more bevelled heel. A thick heel when walking can actually cause tendinitis or shin splints, and can even cause a walker wearing a running shoe to trip.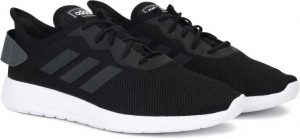 A versatile look that nods to its roots, the Adidas Women's Yatra running shoes are in a class of their own. These running-inspired shoes have an airy mesh upper contrasted with sleek 3-Stripes. The lightweight build keeps you light on your toes, and plush cushioning ensures a smooth ride.
Available from: Takealot
Price: from R885.

If you're going to use your shoes for both walking and little bit of running or run-walking, then a pair of good running shoes is the best way to go. However, if you need plenty of arch support and will exclusively be using your shoes for walking, then it may be best to invest in a pair of dedicated walking shoes.
Shop for a wide range of running shoes and walking shoes online with PriceCheck now: