Loads of people dream of being a DIY master but are often too afraid to pick up a paint brush because they are concerned they don't have enough know-how or that they'll make a mistake and ruin the project. But DIY doesn't have to be scary, in fact there's a whole world of DIY just waiting to be discovered and we've got the key to the gate – chalk paint. This easy-to-use paint is pretty much a DIY dummy's dream come true. Besides being able to adhere to almost any surface, this miracle paint also allows you to get straight to the fun part of any DIY project …the painting! Whether you want to give an old piece of furniture a new lease on life, makeover your kitchen cabinets, or even give your bathroom tiles a facelift, you can do it all with chalk paint.
Usually DIY projects that involve painting, can take ages and require quite a bit of know how with many complicated steps to follow before you achieve the end result you want. Chalk paint is great for novice and seasoned DIYers because it offers a super quick payoff – with this paint there's no sanding or priming in the DIY process. To get started you simply pick a colour, grab a paint brush, and paint.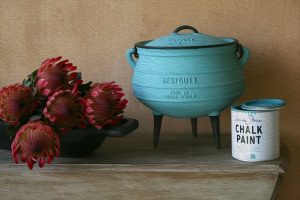 There's also almost no limit to what you can paint with chalk paint. This unique paint can be applied to most surfaces including furniture, walls, floors, tiles, wood, concrete, metal, matte plastic, earthenware, brick, stone and more. This water-based decorative paint is so versatile you can even use it to paint upholstery and dye fabric.
There are a wide range of chalk paint brands out there offering all sorts of beautiful colours to inspire you and help you create DIY projects of your dreams. The Annie Sloane chalk paint range, for example has over 32 different colours to choose from and you can make even more colours by mixing paints together or adding white. The colours can even be thinned with water and used as a wash – there really is no limit to how creative you can get.
Once you're done with your project you just seal your handy work by using a soft wax. Often, these waxes come in a range of finishes and allow you to add a subtle sheen or matte look while also providing protection and durability.
Get started on your DIY journey with chalk paint and buy everything you need online via PriceCheck now.

Want more home and gardening reads? Here 3 Vegetable Seeds that Thrive in Winter.
Check out our House & Home section for great decor, gardening, and DIY reads.