Big bathrooms are a luxury many of us can only dream about, but as fabulous as having a free-standing bath in the middle of the room might be, a compact bathrooms can be just as gorgeous! While making the best of a small bathroom space can be quite challenging, a small space also presents the perfect opportunity to go bold and express your creativity. Just because a bathroom is small doesn't mean it's not worthy of home improvement upgrades like any other space in your home. Here are just a few home improvement ideas and tricks for upgrading your bathroom in a small home.
Use paint or tiles to create an illusion of space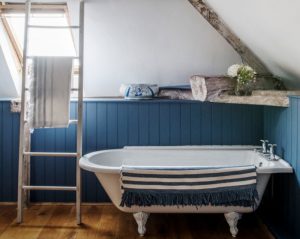 If done in a clever way, a simple paint job can completely transform a small bathroom space and make a small space appear larger than it really is. For example, you can create an illusion of height by painting halfway up a wall. By lowering the eye with a darker paint shade you create depth in the room and the illusion of distance from the upper portion of the wall. This illusion of space can also be created by tiling halfway up the wall. Not only will you save on tiles, but it will also make the space feel larger. Choose a dark neutral tile and paint the space above it white to maximise brightness from windows and lights.
Mount your taps and cabinets to the wall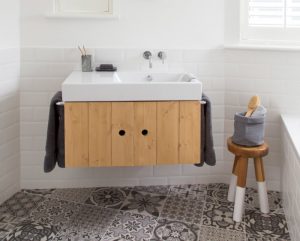 Another great way to create the illusion of space in a compact bathroom is wall-mounted mixer taps and bathroom cabinets. Wall mounted taps allows for a narrower sink and the pipework can be hidden without the need for a space intensive basin pedestal. A 'floating' wall-mounted cabinet offers a streamlined look and visually makes the bathroom appear bigger while freeing up space underneath for small storage items.
Distract from the size with feature wallpaper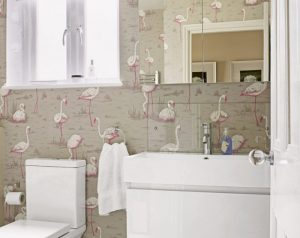 One of the best ways to disguise a small bathroom is to create interest. Striking wallpaper is ideal for this. Opt for a unique, bold or interesting print to maximise the impact in a small space. A large-scale pattern can trick the eye into seeing expanded space and make the bathroom feel bigger. If you're looking to create a statement in a guest bathroom go ahead and choose any wallpaper you wish, however if it's a full bathroom, complete with shower or bath, then you will need to invest in wallpaper that has been designed specifically for bathrooms, that can cope with the damp, warm conditions.
Use the same tiles on the floor and walls
Another clever way to make a small bathroom appear bigger is to use the same tiles on the walls and the floor. The continuous run of tiles creates a spacious feel while still creating a modern look and feel to a small bathroom. Using the same tiles on the walls and floor helps to create a cohesive look in a small bathroom space and can make a bold statement if you choose the right tile.
Looking to renovate your bathroom at home? Buy everything you need at the best price online via PriceCheck now: